The web of today…
The last 10 years have seen some big shifts in web design and development and with the number of web users increasing by 1.5 billion since 2005, we can only assume that world wide web usage will continue to grow as the internet becomes more accessible.
Since the release of Google's, responsive 'Mobile-Friendly' algorithm earlier on this year we have seen a rapid evolution in the way web design and development has been approached. With the start of the year bringing in hopes of expanding the fluidity of UX and the implementation of HTML5 and CSS3, the web has been given the opportunity to take on a variety of different personas – within a flexible, yet very structured mould.
Not only have these advances allowed websites to exist within larger 3D spaces, for example within Parallax Design, they have also allowed for the user to have more control over their individual user experience. It is not surprising however that in many cases the web has become complex to a degree where it is no longer accessible amongst some of the older browsers and devices. In some cases web development is advancing quicker than technology and visa versa, which is why the sustainability of the web is something that we need to address and approach with caution.

The web of today, tomorrow…
So what will the future of the web look like? If we as designers and developers are concentrating on making a sustainable future for the web does this mean that we should unite and come up with a visual language that we can bend and shape to suit? Or will this enforce the demise of innovation, as we know it, lessening the option to be creative and do what we are good at…DESIGN!
Many popular web design blogs are sharing a common voice, saying 'Web Design has become boring' and that applications like WordPress have taken the very essence of design out of the job. However, with no vendor lock-in WordPress (amongst other platforms) can and should be just as flexible and bespoke as HTML only sites – you just need to have a developer working with you who is both knowledgeable and has that extra eye for detail. Plug-ins and extensions are developed FOR web specialists BY web specialists and can be used to fix an issue or work as a foundation to a adding a different functionality to your webpage. Therefore templates and open source, accessible platforms don't have to be considered boring and generic but can act as a solid starting point for which innovation can flourish.
In a way this is what Google are proposing with the release of material design which provides a flexible 3D environment that incorporates web page information in a card-like/swatch format that exist in a space which mirrors tactile reality. Many designers see this as a massive compromise in terms of trying to advance the accessibility of the web by in-fact restricting its flexibility. However this is potentially the one way to unify our navigational understanding of the Internet whilst preparing for further growth and advancement in web accessing devices.
Speaking from experience…
As an example, we are a small London based web design agency who offer a completely bespoke service to our clients. Yet it is more often than not that clients ask for a website that both looks and works like one they have already seen and it's not until we open their eyes to alternative options that they see the possibility and benefit of originality in a very saturated digital world. Ok, so there are rules when designing a website that is functional, responsive and easy to navigate but there are also inventive ways to fuse intuitiveness with intrigue – this is one of our ultimate goals.
Web design, much like the wider design world consists of trends and styles that seem to dominate the web at particular times when they are in fashion. Drawing inspiration from outside influence like art, the seasons, clothing and much more, web design is always trying to emulate these fashions within the confines of the digital world. This is why innovation in web design is difficult to see, because design and development can be so quickly replicated its difficult to tell the leaders from the followers.
It is important to note however, that the power of visual story telling, online video content, photography and typographical design, means that even when you are working within the confines of a template chosen by a client or simply latching on to a trend, the content can still be arranged into a beautiful aesthetic design that works within the company branding. In many cases it does mean that a lot of the ownership and originality has been taken away from the designer and is placed with the hands of the template designer, the website platform or within strict client briefs – either way, web designers and developers should always be searching for the most efficient and effective ways to work well for your company.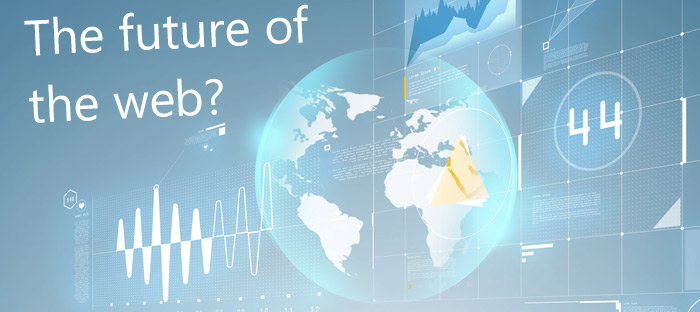 Fearing the unknown…
Although it's difficult to know exactly what the future of the web has in store, it is clear that we are still grasping at the edges of what possibilities the web could offer. In many ways it is still 99% an unknown entity – which is extremely exciting, yet quite terrifying. Frankly speaking, it seems a shame for us to try to unify the Internet when actually we are not yet aware of its parameters but I do wonder, if this is the only way we can create an open, accessible web that is both future-proof and user-friendly.
There is also the small issue of Internet security and data protection on the web. A singular language would be both advantageous and detrimental as it would allow for thorough testing to ensure it was more secure however it would mean that it would it would mostly have the same data make-up that if infiltrated by hackers, would mean the whole of the web would be under-threat.
Inspiring innovative thinking amongst peers
As a trade, web design is an extremely saturated market, particularly in London, full of businesses small and large trying to gain interesting projects to be part of. We are a community of people interested in design and the development of the web and it seems like now, it's quite an important time to share our knowledge and ideas so that we, as a trade can continue to prosper. It seems like this is one way to keep web design alive, and we can continue to gain knowledge and curiosity for our ever expanding field through sharing. Whether it is at web design conferences, events, or even through writing blogs – it seems imperative that we keep the conversations going, particularly if you are a designer who feels that our world is going stale. We welcome comments or queries from both designers and prospective clients as we feel that it is important to keep on learning, expanding and growing. This is not a business that stays still, it is a constant evolution that needs new ideas to feed off.
Overall
Perhaps the possibility of a unified web would mean that innovation would be challenged, in a bit of a different way. Instead of wasting time 'testing' possibilities each advance (eg HTML, CSS, UX, UI developments) would be developed within a universal framework meaning that our knowledge of the language would expand more quickly and efficiently. So instead of concentrating on building fluid layouts and web page structures more time could be spent developing micro-interactions and personalised user experiences. This idea is not for everyone, and we still love the challenge of building a site from scratch. But we are not afraid to be bold when working with existing structures. This is where some designers and developers are going wrong – do not get stuck in a groove. Challenge frameworks by seeing how much customisation they can take, experiment with brand guidelines and think outside the wysiwyg!
Web Design innovation in not dead. It just needs shaking up a bit.
Get in touch…
We have had such a busy summer working with a whole host of amazing clients – but we do have a bit of space for new projects in the next couple of months. If you would like to enquire about a new website design for your business then please do contact us. We are happy to offer a free consultation and talk through some project ideas over a coffee at your place or ours, whatever suits you.
Save